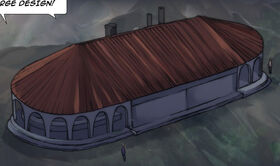 Over the course of Path to Power, the
Tei'kaliath
have had a number of diffrent areas they called forges but this article refferes to the
Ama'varde
forge. The forge is a open air structure with multiple work areas.
Also known as "the workshop," it contains the specialized equipment for production of many different types of crafter items. Like many of the buildings in Ama'varde, the forge building was designed by Alulienne.
Community content is available under
CC-BY-SA
unless otherwise noted.